---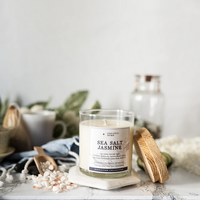 Peripeti Sea Salt Candle
Sea Salt + Jasmine
The sun is just rising over a calm and hazy ocean. A cool breeze floats over the water and the waves roll in and out, lapping at your feet. The ocean water feels sticky on your skin and when you breathe deeply of the salty air you catch a hint of jasmine on the breeze.
This complex, true to life scent is a gentle reminder of a quiet moment by the ocean. You'll notice a subtle briny tang of saltwater softened by the earthy scents of sage, beach juniper, driftwood, and cedar, and then elevated by the sweetness of jasmine and water lily. 
Blended with high-grade essential oils and all-natural scents.